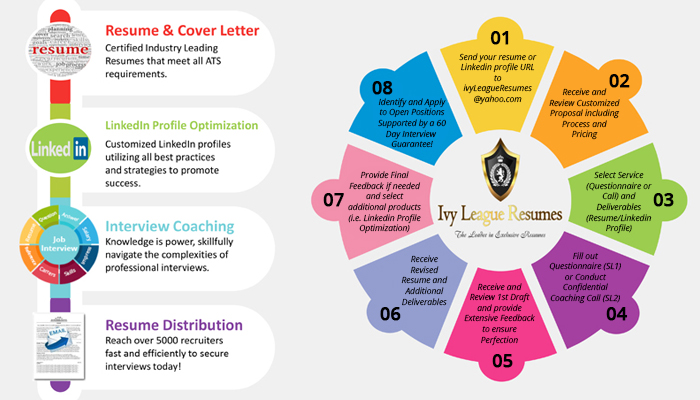 Resume & LinkedIn Profile Process
We know your time is valuable. That's why Ivy League Resumes is committed to completing engagements within one week. Throughout the process, we maintain a flexible, communicative approach tailored to your objectives and schedule.

Receive a free customized, comprehensive proposal outlining the entire process along with the total cost for each product and service based on your specific requirements

Choose the right package and service level (i.e. Resume & LinkedIn combo)

Submit payment via debit or credit through a detailed, secure invoice sent directly to your email

Services are completed within one week from start-to-finish
(2) revisions per document included
60 Day Interview Guarantee
EXPERIENCE-LEVEL
Category I (C1): 0-3 Years of Experience
Category II (C2): 3-9 Years of Experience
Category III (C3): 10-20 Years of Experience
Category IV (C4): Director / Vice President Level / PhD / 20+ Years of Experience
Category V (C5): Executive / C-Level Professional Experience
*Example: If you have less than 3 years of experience, then your service level is (C1)
If you have 15 years of experience and are a senior manager then your service level is (C3)
Ivy League Resumes Guarantee
The Ivy League Resume Interview Guarantee
Ivy League Resumes guarantees a job interview within 2 months of receiving your enhanced resume. If you have had zero interview invitations after 2 months (60 days), simply send an email and we'll deliver a new, re-written resume at no additional charge.
We've offered this guarantee for more than 10 years and receive fewer than five requests per year.
With a few thousand completed orders over the last few years, 99.98% of our clients have found jobs after using Ivy League Resumes' services. That's a 99% customer satisfaction rate!
LinkedIn Profile Optimization
LinkedIn is the #1 online resume and professional networking platform across all industries and geographies. It is no longer a choice, but a valuable necessity.
Over 80% of recruiters utilize LinkedIn services to source candidates
Over 50% of companies leverage LinkedIn as their primary resource for talent management and hiring strategies
There are over 105 million LinkedIn users worldwide, but only a select few know how to structure their content and incorporate keywords in a way that generates positive perception. Ivy League Resumes has the skill and experience to create a LinkedIn profile that attracts the right opportunities directly to you.
Our LinkedIn profile development service is a customized, comprehensive and full-service experience that includes all writing, strategizing, SEO optimization, keyword optimization, professional branding, and error-proofing required to improve your LinkedIn profile. This is NOT a copy-and-paste exercise of either your resume or the resume that we create for you. Your LinkedIn profile should never be an exact replica of your resume.
Career Consultation & Interview Coaching
Many clients have said that the initial Ivy League Resumes interview process alone was worth the investment.
Our approach to interview preparation is tailored to each client, drawing from their unique experience and industry to their communication style and even emotional hurdles. Using this carefully crafted process, we give clients the tools to engage potential employers and clearly articulate their value so they can make the most of every opportunity.
"Through comprehensive and customized resume writing services, Ivy League Resumes meet all ATS requirements and our clients receive interviews almost immediately after completion of the interactive resume, cover letter and LinkedIn profile optimization service while identifying and securing positions in 50% less time than the average."
— Keith Lawrence Miller, MA, NCRW, PCC, BCC, CPRW - Serving Clients in the US, Asia, Europe, Canada, MENA, Middle East, Latin America, and Caribbean