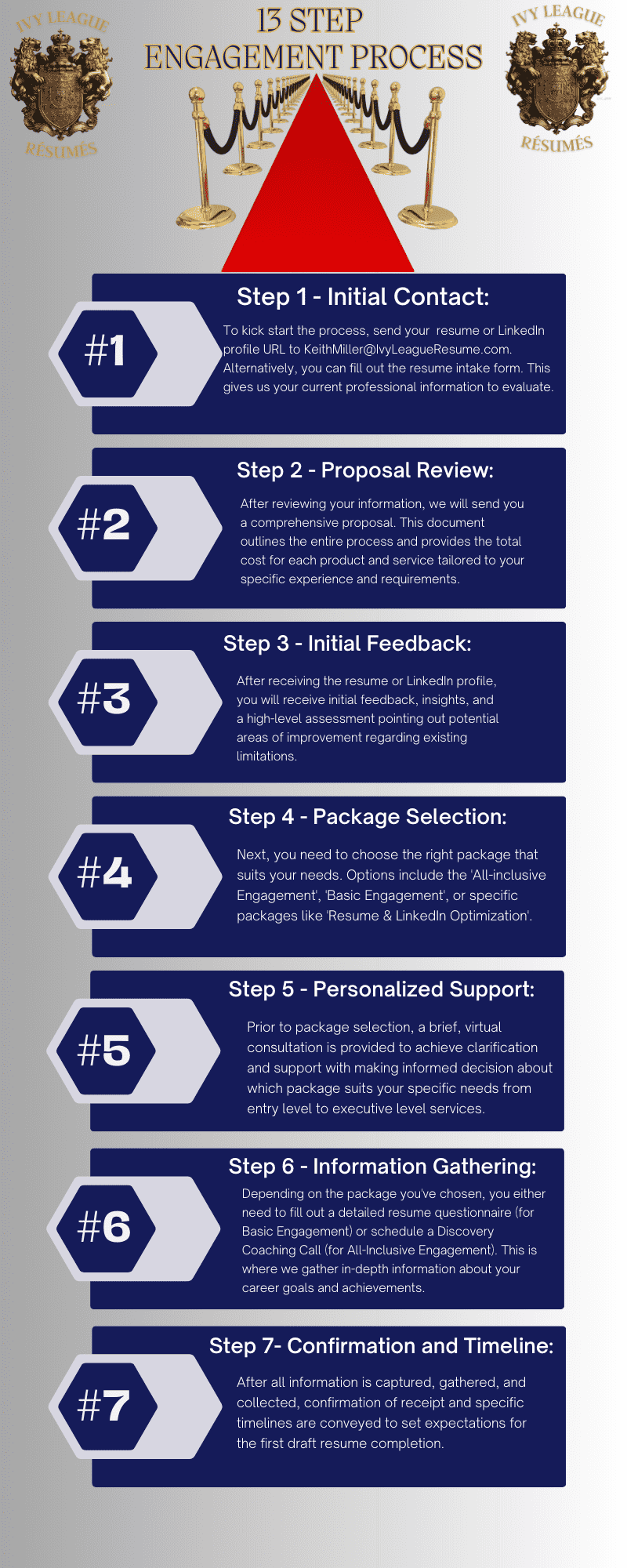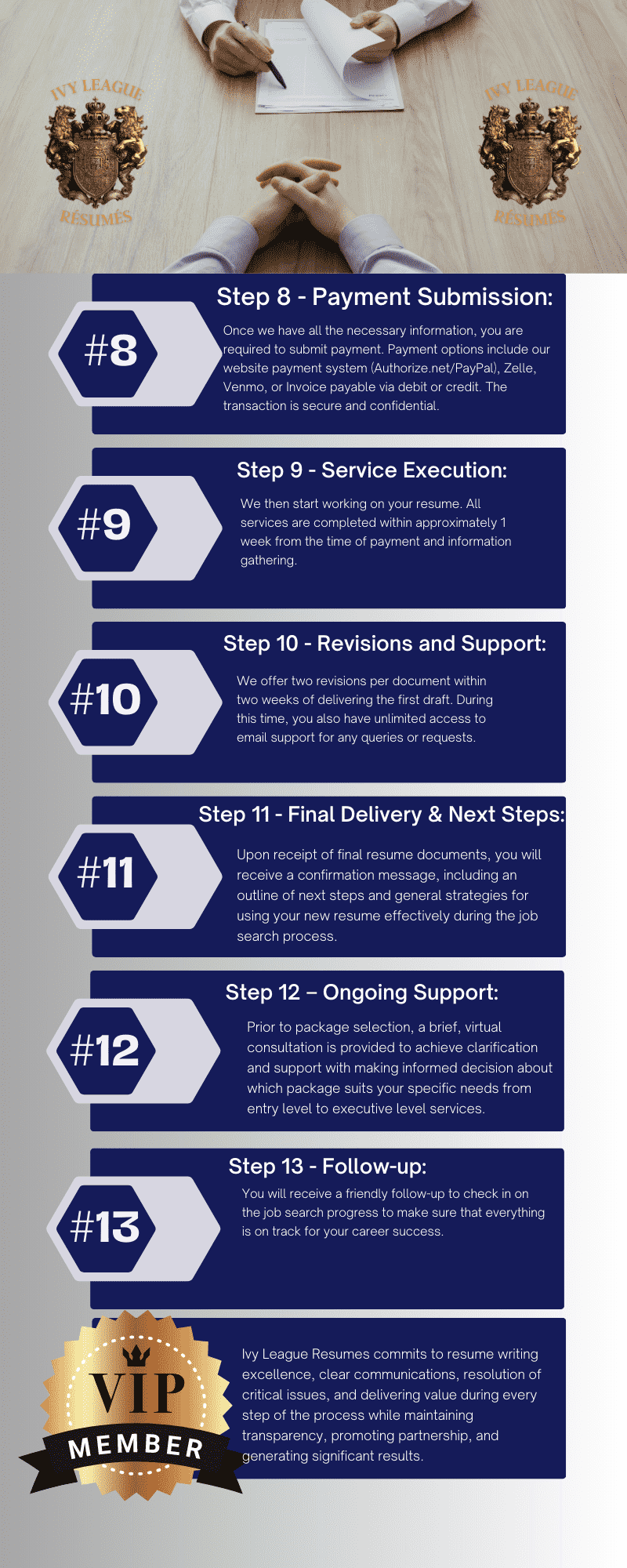 Step 1 – Initial Contact:
To kick start the process, you need to send your current resume or LinkedIn profile URL to KeithMiller@IvyLeagueResume.com. Alternatively, you can fill out the resume intake form. This gives us your current professional information to evaluate.
Step 2 – Proposal Review:
After reviewing your information, we will send you a comprehensive proposal. This document outlines the entire process and provides the total cost for each product and service tailored to your specific experience and requirements.
Step 3 – Initial Feedback:
Ater receiving the resume or LinkedIn profile, you will receive initial feedback, insights, and a high-level assessment pointing out potential areas of improvement regarding existing limitations.
Step 4 – Package Selection:
Next, you need to choose the right package that suits your needs. Options include the 'All-inclusive Engagement', 'Basic Engagement', or specific packages like 'Resume & LinkedIn Optimization'.
Step 5 – Personalized Consultation Support:
Prior to package selection, a brief, personalized virtual consultation is provided to achieve clarification and support with making informed decision about which package suits your specific needs from entry level to executive level services.
Step 6 – Information Gathering:
Depending on the package you've chosen, you either need to fill out a detailed resume questionnaire (for Basic Engagement) or schedule a Discovery Coaching Call (for All-Inclusive Engagement). This is where we gather in-depth information about your career goals and achievements.
Step 7- Confirmation and Timeline
After all information is captured, gathered, and collected, confirmation of receipt and specific timelines are conveyed to set expectations for the first draft resume completion.
Step 8 – Payment Submission:
Once we have all the necessary information, you are required to submit payment. Payment options include our website payment system (Authorize.net/PayPal), Zelle, Venmo, or Invoice payable via debit or credit. The transaction is secure and confidential.
Step 9 – Service Execution:
We then start working on your resume. All services are completed within approximately 1 week from the time of payment and information gathering.
Step 10 – Revisions and Support:
We offer two revisions per document within two weeks of delivering the first draft. During this time, you also have unlimited access to email support for any queries or requests.
Step 11 – Final Delivery Confirmation and Next Steps:
Upon receipt of final resume documents, you will receive a confirmation message, including an outline of next steps and general strategies for using your new resume effectively during the job search process.
Step 12 – Interview Guarantee and Ongoing Support:
Once the final version of the document is handed over, we provide a 60-day interview guarantee. This means if you do not receive any interview calls within 60 days, we will revise your documents at no additional cost. We also provide ongoing support as needed to ensure you are fully prepared for your job search.
Step 13 – Follow-up:
You will receive a friendly follow-up to check in on the job search progress to make sure that everything is on track for your career success.
This engagement process is designed to provide a comprehensive, personalized, and efficient service to enhance your professional profile and increase your chances of landing your dream job. Ivy League Resumes commits to resume writing excellence, clear communications, resolution of critical issues, and delivering value during every step of the process while maintaining transparency, promoting partnership, and generating significant results.