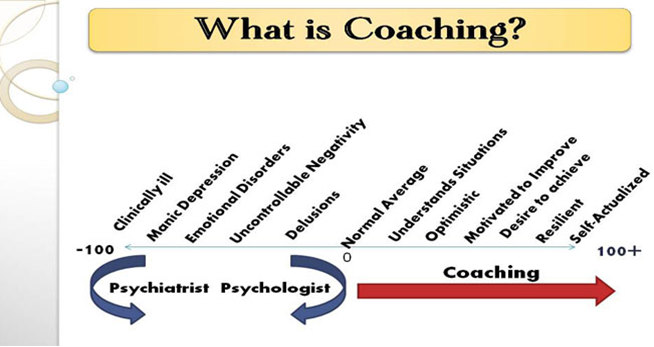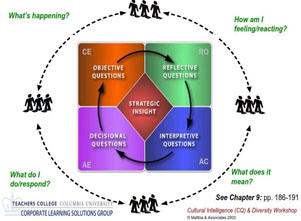 The ORID model is revolutionary and is the next step in the evolution of communication. This coaching model is a coach's best friend because it identifies the correct process to enable the client to expand on their inner potential. Awareness and motivation are critical elements to seizing success in personal and professional encounters. We believe that there is no such thing as a dead end and there is always a possibility to win when there is a present unstoppable will. Our clients overcome extreme adversity and we have the endurance to support against any odds. We implement strategic tools and logic to expand the field of view concerning all situations. The ORID provides a great system to improve communication between the coach and elite associate. Coaching skills such as active listening and powerful questions enable the professional coach to take this tool to a higher level and a lesser qualified coach would not be able to manage the above tool effectively.
The above diagram seems complex and difficult to interpret, but the following will explain the complicated terms in clearer detail. The O in ORID stands for observation which is code for understanding the background information concerning specific client situations. Background information is important for understand current and future situations. A qualified professional coach knows how to understand the content that is being communicated. There are hidden messages that a competent coach can pick up on and create awareness for their client. If done correctly, this feedback can be greatly influential in the client's life.
The R in ORID stands for reflective which concerns understanding the feelings and emotions associated with the background information. A skilled coach will move effortlessly between these two categories and can maneuver back and forth gathering background information mixed with the associated feelings. The ORID box is extremely important because it identifies when uncomfort is created – A lesser skilled coach will unknowingly create uncomfort during the coaching process because they are unaware of the critical rules of communication. Trust is incredibly important when exploring feelings and emotions when supporting a client during this experience. Comfort and safety associated with privacy and confidentiality during the coaching process is essential in understanding all connected elements. True empathy is omnipotent in these situations and a born to be coach will posses this ability.
The I in ORID stands for Interpretive which concerns a full understanding of the previous two categories of O and R plus a focus on co-creating strategic solutions to improve current and future situations. A common mistake of inexperienced coaches is to cross the center and jump to decisions from feelings or from solutions back to background information. These jumps cause uncomfort and skew the coaching relationship because mistrust is unconsciously created. When the coach has safely guided their client to the solutions stage there is a synergy that is growingly powerful. The momentum to overcome obstacles is fierce and the client begins to establish new growth that leads to greater accomplishment. This stage provides a clear-minded platform for expert brainstorming that magnifies client abilities to think strategically from multiple perspectives. The coaching feedback during this stage is extremely beneficial for the client because it signals that they are on the right page and reinforces their motivation to succeed – Sounds great huh.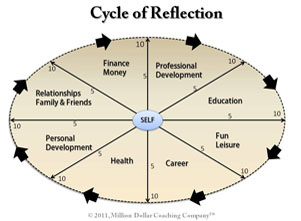 The D in ORID stands for Decisions and this is the fourth category that has the task of capturing the momentum of the previous three categories. This is the mental arena where the client puts the optimum solution into practice and owns the process. This firmly empowers the client to take action in their lives to improve their position by making decisions that are free of false underlying beliefs that create arresting emotions that inhibit appropriate action. The coach guides the process and the client controls the content – The coach empowers the client through the coaching process and the client embraces the opportunity to reach their ultimate potential. An ongoing coaching engagement provides a constant platform for the client to interact with a professional coach. This provides the ability to reflect on progress or various factors that limit progressive action. This is a time to gain a deeper understanding about issues, circumstances, decisions, beliefs, and to brag about reaching previously unrealized goals faster than could possibly be conceived. This experience is what professional coaches live for and witnessing the development of clients is the greatest gift that the coach could receive.
The Executive Coaching Process
Coaching is a high impact learning process that improves performance of high potential individuals that is sustainable over time. Executive coaching is the revolutionary way that implements the behavioral change that is needed to attain and sustain success. Leveraging strengths, decreasing waste, taking action on decisions, pivoting ideas proactively where adaptation is needed are some of the ways that promote success. The executive coaching process combines influence, training, listening, motivation, action, support, empathy, development, and communication to leverage abilities that create increased organizational momentum and individualized focus.
Coaching conversations are conducted and client buy-in is essential:
A commitment to face the collected information
Accepting conflict and/or paradox
Make proper adjustments to correct negative feedback
Become aware of situations, perceptions, and why conflicts exist
Why the gap in communication is occurring
Understand strengths and weaknesses as related to the organization
Learning what behaviors are best at which times
How to adjust to the poor behaviors of others with tact and class
Form S.M.A.R.T. targeted goals for overall improvement
S.M.A.R.T. goals are Specific, Measurable, Attainable, Relevant, and Timely.
Specific – I want to make a lot of money vs. I want to make 250k within the next 8 months. A specific measuring point provides you a metric for success or failure and provides a solid mental structure that creates motivation and purpose.
Measurable – Daily, Weekly, Monthly metrics are important when measuring your progress to meet the end goal. Developing a specific amount of time per day dedicated to making a specific amount of money will allow you to measure the difference between existing and needed amounts to reach the end goal. These measurable structures allow you to create an automated trajectory to meet your end goal. This will allow you to adjust your metrics along the journey in order to reach the desired target or to reduce the end goal to a more realistic outcome. "Things that get measured get done" – Peter Drucker
Attainable – Or in other words realistic – You will not go from earning no money to earning 10 billion every 6 months. Although we would like to make drastic leaps in earning potential, this is not realistic. Develop a realistic goal that can be achieved. Coaches note: Don't sell yourself short either – You can achieve great things with great effort – All things are possible if you believe in yourself, find the correct operations, and work hard and diligently to achieve your desired results.
Relevant – How does this goal apply to your life? Are you motivated to meet this goal? Do you own the goal? The importance of the goal in relation to your life satisfaction is optimal for applying yourself to completing your efforts. If there is no substantial benefit or improvement then why are you doing it anyway? Choose your goals strategically and make certain that you want to achieve the desired results and gain a full understanding on the rewards you will receive on your journey.
Timely – Start the countdown – Without a time limit, the goal accomplishment could go on indefinitely. Without a future goal post to signal the end will inhibit your success by allowing daily distractions to interfere with your required efforts. Success is defined as meeting goals. Set a feasible target date to enhance commitment and focus and this is the final step in being S.M.A.R.T.
Secrets of Professional Coaching
Professional business and life coaching is action-focused and results-oriented. Coaches enable clients to enhance their focus on developing successful solutions and to mitigate self-defeating beliefs about their performance.
Coaches have and instill a single-minded focus on achievement.
Professional Coaching is not for everyone and not all coaches are created equal.
Coaching is a learned discipline and a powerful medium between therapy, mentoring, and consulting. The character traits needed to be an exceptional coach are many and begin with the ability to truly listen and discern meaningful information in real-time. Also, the ability to manage empathy at its highest level is essential for developing the necessary connection between coach and client that leads to synergistic success. Furthermore, the ability to understand the client's personal and professional position in life and to provide overly valuable and timely feedback that challenges and motivates the client to develop relative skills to improve is an essential skill.
Coaching provides the client with a competitive advantage over the competition and enables an intense learning experience about oneself and the respective situation at an accelerated speed. This style of learning greatly enhances self-esteem and self-awareness inside the confines of a secure and confidential experience with a qualified personal coach.
A coaching candidate requires the ability to handle unbiased feedback that at times can challenge self-identity. A potential client should be resilient enough to overcome self-doubt and to meet predetermined goals for overall improvement. A determined need to be successful in life is a prerequisite for an outstanding client. Ultimately, having a coach is a fashion statement which says to the world that you are an overachiever who has the ability to employ a professional coach to maximize performance, potential, and opportunity.
Quality coaching is not cheap and the cost of coaching is relative to the expertise and support that is provided. A coach should constantly challenge their belief system and make constant changes for improvement in their personal and professional development. A coach should walk the talk and have a total commitment to the craft of coaching.
Coaching branches off into niches and specialties because of targeting a specific market and expanding from that specialized foundation, but coaching skills are universal and apply to multiple levels in personal and professional development. A truly skilled coach has the ability to adapt to the situation and rework their coaching tools to conform to the desired goals of their client.
Education is the ultimate equalizer and utilizing a coach to enhance personal and professional development to maintain equilibrium in today's fast-paced, 24/7 globalized environment is becoming a mandatory choice for continued excellence.
Why are some leaders exceptionally better than their counterparts? Why do some workers always excel in their work? Why are some parents better than others? They have a confidential secret that enables them to create an intense focus on achievement and that secret is professional coaching.
Coaching is an Experience!
The Power of Coaching has been Discovered & Increasing Visibility of this Outstanding Phenomenon is Optimal. Professional Coaching is the next step in Evolution
The most successful people in our generation have Discovered the Power of Coaching
All U.S. Presidents receive coaching
Most Fortune 500 CEO's
Most television personalities
Most of the richest people living today
"Coaching is to the Individual as Consulting is for the Corporation"
Coaching is to Overall Development as:
Bill Gates for the Internet
Freud for Psychology
Trump for Real-Estate
Apple for Technology
Coaching Enhances Client Ability to Experience Faster and Enhanced Satisfaction in Personal & Professional Development. Coaching is Not Only for the Rich & Powerful Anymore.
Coaching is Affordable
Worth the Money
The Return on Investment is Substantial
Coaching is the conduit for advancing overall success.
Professional Coaching
Removes Barriers
Enhances Self-Esteem
Provides Positive Outcomes & Perspectives
Are Time, Self-Awareness, Success, and Personal & Professional Development Important in Your Life?
Then Coaching is for you which also includes:
100% Confidentiality
100% Quality Service
Secure Coach-Client Relationship
Non-Judgmental Space
Complete Understanding
Superior Support
Your Life Choices will be Respected and Understood
Safe Comfortable Environment for you to Reach Goals
Reduced Stress
Enhanced Self-Awareness